If you follow fashion trends then you probably have realized a rise in crochet fashion. If you're a fan of crochet clothes then you need the perfect crochet dress. Crochet clothing is really interesting and the best part is that you'll be surprised at how versatile it can be. This is why we'll be telling about crochet dress options.
By now, you've probably watched some of the biggest names in the entertainment industry rocking fantastic crochet dresses and you've also probably noticed how cool they look. You might be not sure how to wear it, where, and what actually goes with it. But, there's something about wearing a crochet dress that makes you feel pretty fashionable.
So whether you are a lover or are just curious about the crochet dress trend, and are still deciding whether to join or not, consider this is a trend that is not going anywhere anytime soon. With that thought in mind, check out below some of the best crochet dress options that we are positive you will absolutely love.
Crochet Dress FAQ's
What is crochet clothing?
Crochet is a process of creating textiles by using a crochet hook to interlock loops of yarn, thread, or strands of other materials. The name is derived from the French term crochet, meaning 'small hook'.
How to style a crochet dress?
Crochet dresses are always a standout and there's something very attractive about their 70s appeal. They're a perfect summer piece and can be worn alone see-through over your swimsuit or you can wear them out with a slip dress underneath if the knit pattern is too wide. They look great with sandals and even boots. Don't shy away from trying them in bold patterns and colors.
Is crochet comfortable to wear?
What makes crochet fabulous is that it is not limited to the cold season. The see-through nature and delicacy mean that you can wear certain styles during transitional weather, which is exactly what your wardrobe needs right now. It's soft, comfortable, and surprisingly versatile.
Can you wear crochet in summer?
Whether you're on a boat or dining seaside, a crochet dress with fringe trim is fail-safe for summer. A black and white palette will streamline the effect of handiwork detailing while gleaming extras like a baroque pearl necklace and gilded sunglasses bring the glam.
Can you crochet a dress?
The crochet bodycon dress can be made in any size and length. You need to know single crochet, half double crochet, double crochet, chains, and slip stitches. The pattern also requires a unique 123-stitch that is explained.
What is a crochet pattern?
Crochet patterns are worked in either rows or rounds (rnds). Each pattern will specify whether you are working in rows, rounds, or a combination of both. Most crochet patterns are rated according to the level of difficulty, including beginner, easy, intermediate, and advanced.
How do you make a crochet dress?
It all depends on the crochet dress patterns you are looking for. Check out a few examples of crochet dress patterns.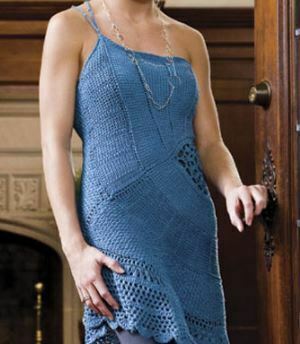 This stunning dress combines regular crochet stitches with Tunisian crochet and broomstick lace techniques all in one spectacular piece.
It incorporates broomstick lace, which is such a stunning openwork technique. It also includes Tunisian crochet. Those two techniques enhance other basic crochet stitches.
The result is a really original piece of crochet fashion that you can be proud to wear anywhere.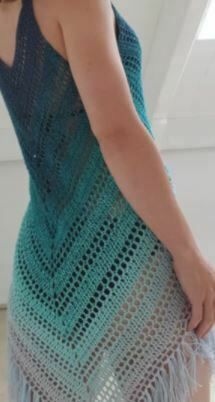 This openwork crochet lace pattern actually looks a little bit like hairpin lace. However, it's worked in regular crochet stitches.
It's a peacock-inspired motif joined together in an original way. You'll have to wear a slip dress underneath this one, which is actually right on trend with fashion.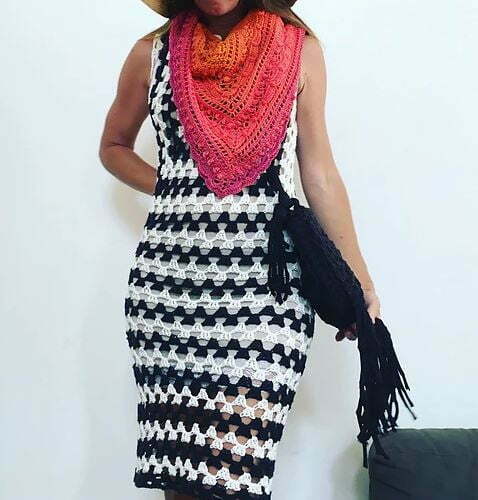 This is a really simple crochet dress pattern. It has a granny square tank for the top and then similar granny stitching for the rest of the dress.
The graphic pop takes it to that next level that makes it true crochet fashion. As you can see from the photo, a little bit of styling really takes this one a long way.
It is a highly adaptable pattern that you can easily make in any size.
Crochet Dress
This cover-up dress is perfect for beachwear, resort wear, water park, pool, and cruise wear.
The bathing suit cover-up is perfect as a gift to your lover, friends, or family, and even as a honeymoon gift.
The swimwear cover-up is lightweight and comfortable, easy to put on or take off.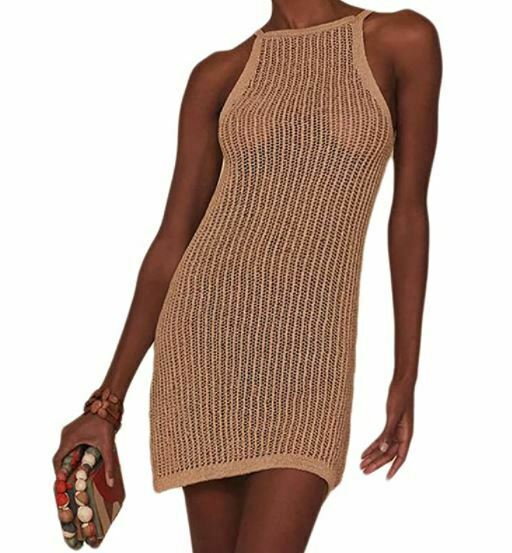 Features:
Polyester
See-through
Tunic Swimwear
Crochet cover-ups
This cover up dress is just enough to hide any imperfections in the skin. It is a piece of wardrobe that can be worn so many ways.
Careful with anything that may snag the material, wash on cold hang to dry. It's thick and feels durable, not cheap or flimsy.
It fits great with a little extra room and is very comfortable.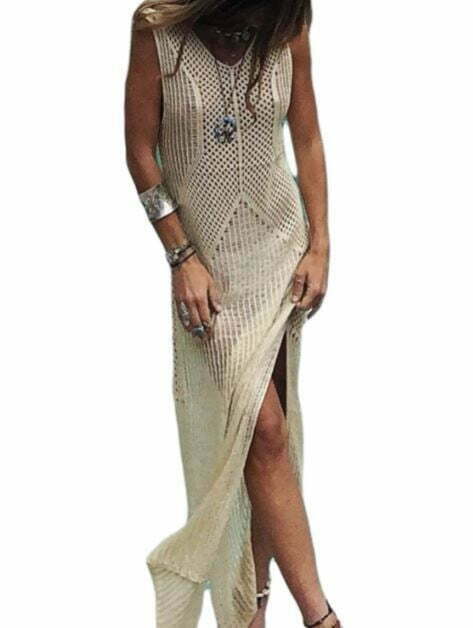 Features:
Polyester
V-neckline
Sleeveless
This solid color long maxi dress is made of a soft and breathable cotton material which is perfect for spring summer autumn.
Meet your needs on various occasions and match your various clothes. Featuring a neat v-neck, adjustable spaghetti strap, lace trim waist high waist design.
With elastic folds on the back to control the waistline with flowing skirts women's maxi dresses for summer are flattering enough and casual.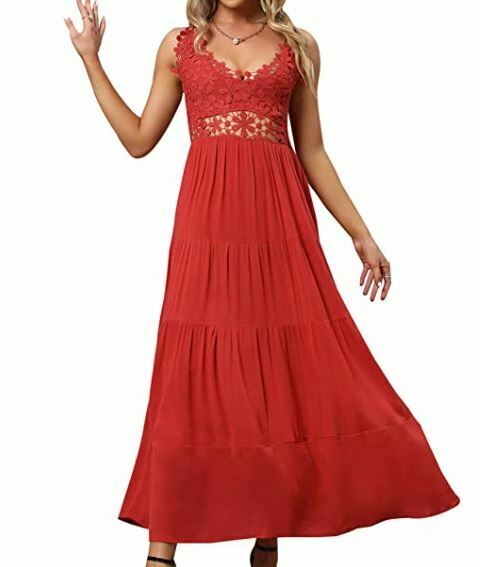 Features:
Cotton blend fabric
V-neck
Adjustable
This crochet dress is made of high-quality cotton blend materials which make indulging in silky. Comfortable, soft, breathable. Prefer hand wash to machine wash.
This sleeveless, cross halter neck, open back, deep v-neck design is a sexy bodycon mini dress; all the design shows your nice body.
Great for casual wear, date, leisure, summer beach, street, vacation, party, night club, cocktail, an outdoor, holiday, or any other type of workout or everyday use.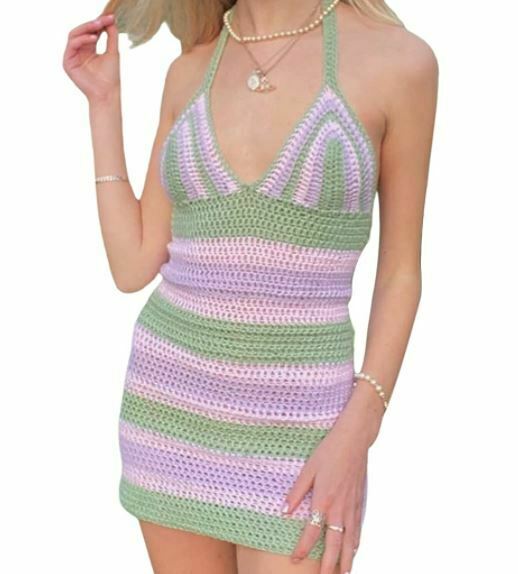 Features:
Comfortable
Breathable
Cross halter neck
This crochet knitted swimsuit cover-up features material that is very soft and comfortable.
Perfectly suitable for beach, swimming pool, poolside tanning salon, and water park.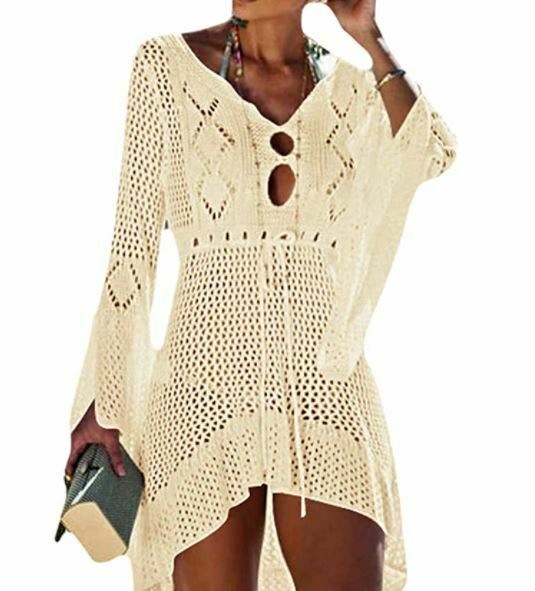 Features:
Add a beautiful Crochet bucket hat to any of these dresses!! We suggest you look at these cool tie dye crocs.