Are you a fan of tie-dye? Then you probably own a few tie-dye hoddies by now. According to fashion and style experts tie-dye will still be a trendy style in the following months, which is why today, we'll be sharing with you some of the best tie-dye hoodie options.
In the past year or so, most have lived in sweatshirts and sweatpants, so there's no shame in admitting you jumped right in after retailers began to offer various and different tie-dye styles and designs. But really who can blame us, in addition to the obvious comfort sweatshirts offer, these are equally convenient, as you can take them virtually anywhere and still look fashionable.
So whether you are a sweatshirt lover or are just curious about the tie-dye trend, and are still deciding whether it is for you or not, consider this is a style that is not going anywhere anytime soon. With that thought in mind, check out below some of the best tie-dye sweatshirt options that we are positive you will absolutely adore.
Tie Dye Sweatshirt FAQ's
Are sweatshirts in 2022?
Sweatshirts aren't just your post-workout layer anymore; they've become a fashion staple. Now, our favorites have fun graphics or interesting details, and they're the picks we'll be wearing throughout the year. The great part about a sweatshirt is that it'll keep you cozy, but they don't look disheveled anymore.
Can you tie dye fleece sweatshirt?
Polyester fleece is made from synthetic fibers and can only be dyed with fabric or textile dye specifically formulated to work with synthetic fabric. The dye that comes in a tie-dye set is formulated for cotton fabrics and will not work on synthetic fleece.
Can you tie dye colored sweatshirts?
When tie-dyeing bulky items such as sweatshirts and sweatpants, you'll want to be sure you have the right supplies to get the job done easily. These sorts of items are large and take a lot of dye, so you'll want to make sure you have the right supplies on hand. Experts recommend 12oz Tie Dye Squeeze Bottles.
Is it better to tie dye wet or dry?
It is generally recommended to wash your fabric and leave it damp before tie-dyeing, as the dye has an easier time saturating the fabric when it's wet. Applying dye to dry fabric results in more color saturation but less uniform permeation throughout the fabric.
How to tie dye a sweatshirt at home?
What you need:
White sweatshirt
Tie Dye Kit
Baking Racks
Disposable Gloves
Trash Bags
Process:
You'll want to start this project by washing your sweatshirt. This will get out any chemicals or softeners that might have been put on the garment.
Do not dry the sweatshirt. Leave it damp. Using a wet sweatshirt makes it easier for the dye to penetrate the fibers of the garment.
Now you'll want to fold your shirt for the desired effect of the tie-dye.
Make sure your shirt is thoroughly secured with rubber bands or ties. Just make sure it will stay the way you've folded it.
By using the baking rack, the dye is able to just drip down to the bottom instead of settling and mixing with other colors where you don't want it.
By keeping it up off the surface, you can prevent the unintentional mingling of colors. Mix up your dye according to package directions, making sure to wear your gloves.
Now you can apply your color. Make sure you dye the front and the back of the hoodie, using plenty of dye.
Once you've finished applying the color to your tie-dye sweatshirt, wrap it in plastic to keep it damp.
Next, you need to rinse out as much dye as you can from the shirt, while it's still bundled up. This will help prevent accidentally dying areas you don't want to be dyed.
Then unbundle your shirt. Once you're happy that you've rinsed it completely, you'll want to wash your tie-dye sweatshirt in the washing machine by itself, with just a little bit of detergent.
Once it's washed, you can throw your tie-dye hoodie in the dryer or hang it up to dry. Whatever you would normally do with it.
What features to look for when choosing a tie dye sweatshirt?
Material: Because of the nature of most cloth dyes, cotton is the preferred material for tie-dyeing. However, some sweatshirts may have a blend of cotton and polyester that can still survive the process.
Size: Many sweatshirts are designed with generous proportions, but some are meant to be more form-fitting or revealing.
Tie-dye style: Tie-dye specialists use a number of techniques to create a range of designs. One of the most common is a spiral pattern of contrasting colors. By changing the orientation of the bands, a concentric circle or bullseye is also possible.
Color scheme: Traditional tie-dye tends to use bold, contrasting colors such as orange, yellow, and red. However, there are dyes available in more muted pastel shades and even some black and gray gradations. Earth tones and saturated jewel tones are also very popular.
Design: Within the general category of sweatshirts, there are a number of style options. More casual sweatshirts for workouts or lounging are crewneck pullovers that resemble long-sleeve T-shirts.
Tie Dye Sweatshirt
The primary materials that compose this product contain a minimum of 20 percent recycled content.
Look smart and fashionable while slaying the cas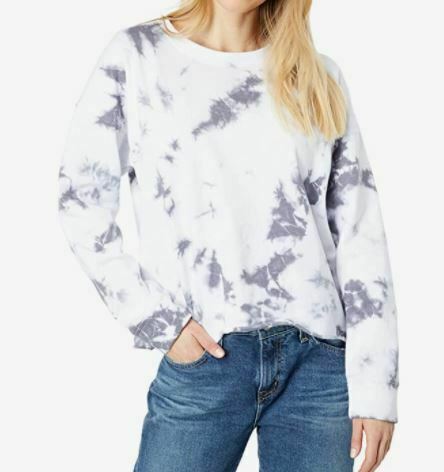 ual wear trend in the Splendid Tie-Dye Eco-Fleece Sweatshirt, perfect for everyday wear.
You will look amazing in this all-over tie-dye print, crew neckline, long sleeves with banded cuffs, and unfinished raw hemline design.
Features:
60% recycled cotton
40% recycled polyester.
Machine wash, tumble dry
Enjoy a versatile style in the Levi's® Premium Prism Crew. This is a great pull-on construction with a crew neckline, long sleeves, and ribbed cuffs and waist.
A classic pullover made with a relaxed fit for a casual look. Complete the look with some high-waisted jeans or shorts.
This easygoing sweatshirt with a relaxed fit features a vintage Levi's logo at the front. Designed with superior craftsmanship and extra attention, Levi's️ Premium elevates our iconic styles with quality that'll stand the test of time.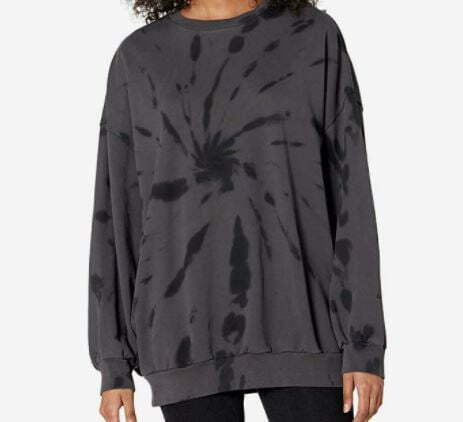 Features:
Cotton
No Closure closure
Machine Wash
Perfect for a casual look, the Vans® Grunge Wash Crop Crew Sweatshirt will fit into your wardrobe any day of the week.
You will look like a star in this long sleeve crewneck with a straight hemline, design. It also features the printed logo on the left chest. It is elasticated at cuffs with pull-on styling.
Now you can just throw on your favorite sweatshirt and be out the door. Suitable for casual outings.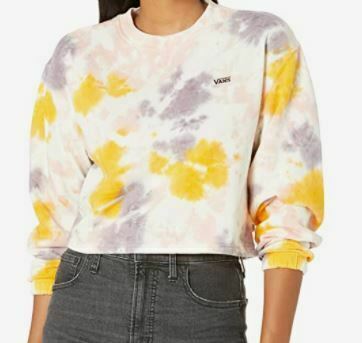 Features:
Long sleeve
Elasticated at cuffs
Pull-on styling
Post-hanging ten or lounging around, the Billabong® After Surf Pullover Sweatshirt will give you the cozy comfort you've been looking for.
his is a great pullover crewneck top that features full-length sleeves and a straight hem. Rib-knit trim at neckline, cuffs, and hem.
The Billabong After Surf Pullover Sweatshirt also comes with graphics on the left chest and across the back.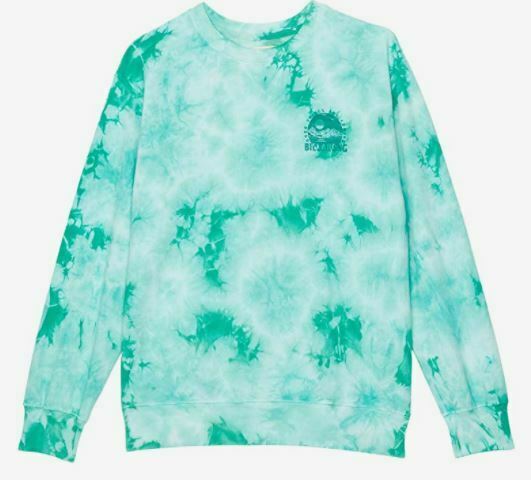 Features:
Pullover
Full-length sleeves
Straight hem
The lovely and ultra-cozy Madewell® Plus Tie-Dye (Re)sourced Cotton Swing Sweatshirt features a pullover styling, classic rounded neckline.
This trendy sweatshirt is also a tie-dye-inspired design at neckline, with long sleeves with fitted cuffs, and straight fitted hemline.
Now you can be ready in a second and feel both comfy and trendy.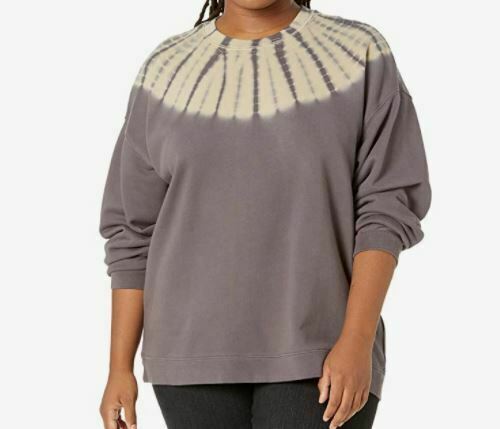 Features:
98% cotton
2% elastane
Machine wash, tumble dry
Take an easy day with a comfortable classic look in the Volcom® Dye Tying Sweater. It has soft fabric and is extremely comfortable, making it durable for all-day wear.
The Volcom® Dye Tying Sweater features a long sleeve crewneck with a straight hemline. As well as,
ribbed at cuffs and hemline.
This tye-dye design throughout is made using 52% viscose, 28% nylon, 20% polyester. It is recommended to hand wash and dry flat.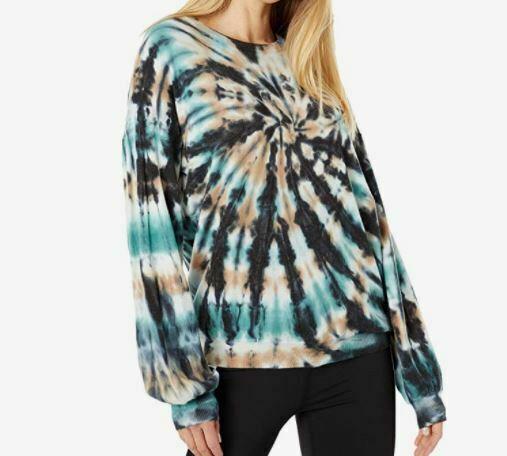 Features:
Long sleeve crewneck
Straight hemline
Ribbed at cuffs