Are you a fan of tie-dye? Then you probably own a few different tie-dye items by now. According to fashion and style experts tie-dye will still be a trendy style in the following months, which is why today, we'll be sharing with you some of the best tie-dye dress options.
In the past year or so, most have lived in tie-dye sweat and pants, so there's no shame in admitting you jumped right in after retailers began to offer various and different tie-dye styles and designs. But the cool thing about tie-dye is that is not only limited to sportswear, if you really love tie-dye, you can also opt to choose other clothing items. There's something about wearing a tie-dye dress that makes you feel pretty fashionable. You can really add a touch of boho-chic to your wardrobe with a tie-dye dress.
So whether you are a lover or are just curious about the tie-dye trend, and are still deciding whether it is the right fit for you or not, consider this is a style that is not going anywhere anytime soon. With that thought in mind, check out below some of the best tie-dye dress options that we are positive you will absolutely rock.
Tie Dye Dress FAQ's
Is it better to tie-dye wet or dry?
It is generally recommended to wash your fabric and leave it damp before tie-dyeing, as the dye has an easier time saturating the fabric when it's wet. Applying dye to dry fabric results in more color saturation but less uniform permeation throughout the fabric.
How long should tie dye sit before you wash it?
If you've just tie-dyed your clothes, step away from the washing machine. According to manufacturers, you'll want to wait about 24 hours before washing, so the dye has plenty of time to set.
How long does tie-dye last on clothes?
Dye maintains its potency for only 48-72 hours. Experts recommend activating only the colors and amounts you plan on using in a given session to avoid wasting precious dye.
What shoes should I wear with a tie dye dress?
It depends on the occasion. If you are planning to walk around town, wear fashionable sneakers or comfortable sports sandals. If you are going to the party, add to your outfit sleek, bright solid color ankle strap heels for a polished vibe.
How do you match tie dye?
Pair your tie-dye tee with plain washed jeans, black joggers, or khaki chinos. Or if you're going bright and bold with your bottoms, keep it simple on top with a neutral-toned tee or a white shirt.
What features to look for when choosing a tie dye dress?
Design: Within the general category of dresses there are a number of style options. More casual sweatshirts for workouts or lounging are crewneck pullovers that resemble long-sleeve T-shirts.
Tie-dye style: Tie-dye specialists use a number of techniques to create a range of designs. One of the most common is a spiral pattern of contrasting colors. By changing the orientation of the bands, a concentric circle or bullseye is also possible.
Size: Many dresses are designed with generous proportions, but some are meant to be more form-fitting or revealing.
Color scheme: Traditional tie-dye tends to use bold, contrasting colors such as orange, yellow, and red. There are dyes available in more muted pastel shades, however, and even some black and gray gradations. Earth tones and saturated jewel tones are also very popular.
Material: Because of the nature of most cloth dyes, cotton is the preferred material for tie-dyeing. However, some dresses may have a blend of cotton and polyester that can still survive the process.
What tie dye dress styles should you keep an eye on?
Slip dress: Indulge in the boudoir-inspired trend, but make it a little more playful with a tie-dye option.
Shirtdress: Make your tie-dye number slightly more tailored with a button-front, collared shirt dress.
Sleeveless dress: These are perfection for the hottest days of summer, make sure to have a sleeveless dress (or five) on hand.
Maxi dress: Go boho with a tie-dye dress that grazes the floor. Add sunglasses and neutral flats and you're good to go.
Midi dress: For daytime with sneakers or nighttime with heels, an elegant midi silhouette is, the way to go. It's a timeless classic made even more vibrant by way of a tie-dye pattern.
Mini dress: Be fun and flirty with a mini dress in any style. Puff sleeves and bright colors make the look even more modern.
Ruching dress: Whether allover ruching or a single waistband or shoulder detail, consider adding a bit more texture to your tie-dye look with a ruched dress.
Tie Dye Dress
You don't need to be lucky to look good in the Lulus x LUSH Ruffle Luck Blue Tie-Dye Ruffled Midi Dress.
Lightweight woven fabric, in a blue and white tie-dye pattern, shapes this cute dress with elasticized ruffles that create slender tank straps and a square neckline.
A relaxed bodice rests atop a smocked waist and flowy midi skirt with a ruffle-trimmed tiered hem.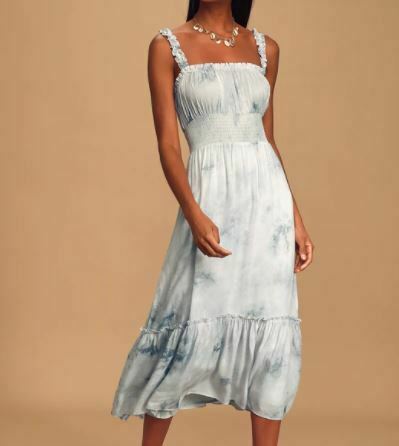 Features:
Skirt is lined
100% Rayon
Hand Wash Cold
Keep things lighthearted and sweet in the Lulus Carefree Lifestyle Purple Tie-Dye Shirt Dress.
A purple and white tie-dye print creates a playful vibe across the lightweight woven fabric as it forms this cute midi dress with a collared neckline and short sleeves with rolled and sewn cuffs.
Functional hidden-button placket travels down the straight-cut silhouette while belt loops and a tying sash cinches the waist.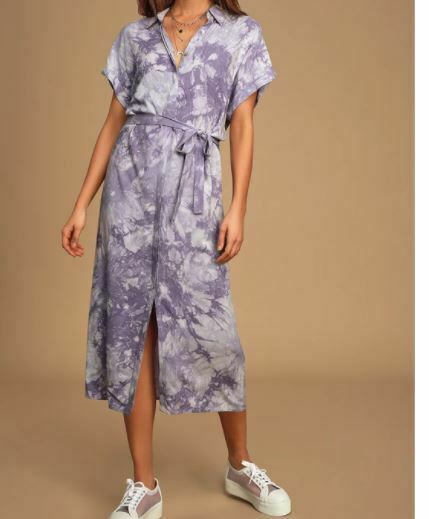 Features:
Unlined
100% Rayon
Hand Wash Cold
SVNR designer, Christina Tung teams up with the designer of abacaxi, Sheena Sood team up to release an abacaxi x SVNR limited-edition capsule.
The capsule features SVNR's signature 100% silk slip dresses, hand-dyed using traditional Indian leheriya rope-dyeing techniques. Complementing abacaxi's palette, the colors include a combo of pinks and greens.
The signature SVNR silhouette, this flattering slip dress has been named an essential, with colors inspired by the elements, the 100% silk material embodies lightweight breathability and versatility.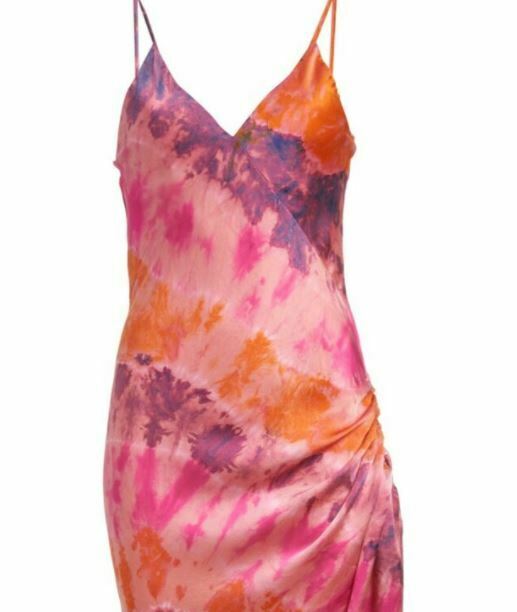 Features:
The fabric of the cute mini dress is good softness, stretchy, skin-friendly, and highly breathable. Let you feel the comfort of a baby.
The tie-dye process makes each piece of dress unique; the ruffled line makes the sundress more flattering. The basic v neck short sleeve design, combined with modern fashion elements, provides a stylish appearance and elegant atmosphere.
You can use high-top sneakers and denim jackets to match, you can also wear high heels or flat shoes to match.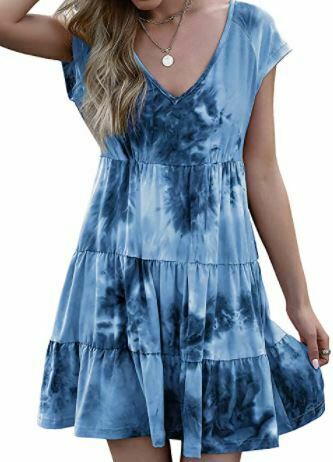 Features:
Tie-dye
V-neck
Short dress
Loose fit
Tie-dye designs create a feminine silhouette with its figure-hugging cut. The soft material is super comfortable on the skin.
Thanks to the rib structure, the long sleeve dress always remains comfortable and dimensionally stable. The crew-necked round neckline underlines the uncomplicated look of the new leisure favorite.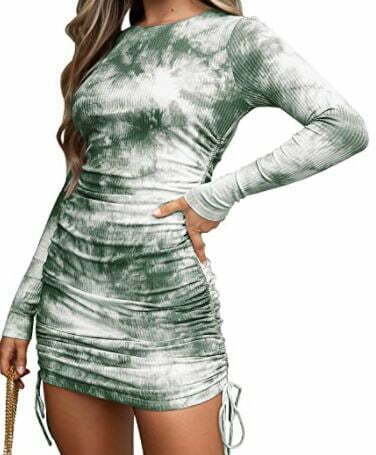 Features:
85% Polyester, 15% Rayon
Versatile
Drawstring closure
Is tie dye your thing these days? Check out these amazing Tie Dye Sweatshirts and tie dye crocs.