If you follow fashion trends then you probably have noticed a rise in crochet tops for a few years now. By now, you've probably watched some of the biggest names in the entertainment industry rocking crochet tops and you've also probably noticed how cool they look. This is why we'll be telling about crochet top options.
If you are a fan, chances are you probably own a few crochet top styles, and stores are simply overflowing with them. But let's say you either can't find the right one or perhaps you just want something different. Then what about making your own! There's something about wearing a crochet top that makes you feel pretty fashionable and at the same time, quite confident.
Making your very own crochet top might sound quite challenging and intimidating, but it can also be quite fun. So whether you are a lover or are just curious about the crochet top trend, check out below some of the best crochet top options that we are positive you will absolutely love.
Crochet Top FAQ's
Can you crochet tops?
The answer is a resounding yes. There are trendy crochet crop tops that are easy to make, so they're perfect for beginners. You'll enjoy wearing your handmade crop top to summer festivals, the beach, and more. You can search for crop top patterns for every style, so you're sure to find the perfect pattern for you.
How long does it take to crochet a top?
Since you're crocheting a single piece that covers the front of your torso and leaving the back bare, the top comes together quickly. Plus, you'll only need a few basic crocheting skills, a skein of yarn, and about 20 minutes.
What do you wear inside a crochet top?
You can keep your entire look casual by pairing your crochet top with a pair of denim pants or shorts. Opt for a distressed pair for a more casual, flower-child vibe. To dress up your outfit a bit more, choose sleek, darker denim. Jeans are an effortless choice because they will go with any style or color of crochet top.
What crochet techniques are trending?
Textured Crochet: Texture is an important and trending crochet technique a few years ago, crochet patterns. From crochet bobbles to loop stitch crochet to tassels and more, we saw a lot of texture in the crochet patterns. The Campo Vest from Interweave Crochet Spring used the crochet loop stitch to create a faux fur-inspired vest that will become a staple in your closet, spring through winter.
Crochet lace: This is another hot technique. Designers have been inspired by crochet lace in both summer and winter. The Jasmine Flower Dress from Interweave Crochet Summer is one of the most popular crochet patterns of the year with its ankle-length chevron crochet lace–though you can work this crochet dress to any length you need.
Crochet colorwork: Designers took crochet colorwork to a new level. Rows of v-stitches in contrasting colors are turned on their side to create the colorwork stripe that runs down the front of the Dusty Plum Dress in Summer, and the Breakwater Wrap from Spring gives you the perfect excuse and the perfect crochet pattern to use and wear that bright colored yarn you secretly love.
How much yarn do you need to crochet a top?
Get out a skein of yarn that's 4.5 ounces (127.5 g) or 227 yards (208 m) long. You can use any type of yarn you like, but pick a yarn that's soft so your crop top is comfortable to wear. Keep in mind that you won't use all of the skeins. Avoid using 100% cotton yarn since it will shrink if you toss it in the dryer.
What yarn is best for crochet tops?
The best choice when it comes to washable yarns is often one fiber yarns. Such as 100 % cotton or 100 % wool yarns. However, some mixed yarns might also be good for washing. Check if the yarn label says anything about it being durable when it comes to washing.
What do I wear under a crochet dress?
They're a perfect summer piece and can be worn alone see-through over your swimsuit or you can wear them out with a slip dress underneath if the knit pattern is too wide. They look great with sandals and even boots! Don't shy away from trying them in bold patterns and colors
How to crochet your own crop top?
Casting on and Crocheting the Band
Pick a skein of worsted weight yarn in any color. Get out a skein of yarn that's 4.5 ounces. You can use any type of yarn you like, but pick a yarn that's soft so your crop top is comfortable to wear. Keep in mind that you won't use all of the skeins.
Make a slip knot and slide it onto a US size H-8 (5 mm) crochet hook. Pull about 6 inches (15 cm) of yarn from the skein and wrap it around 2 of your fingers.
Pinch this loop so the working yarn hangs behind it. Push your crochet hook into the loop and grab the working yarn with the hook. Then, pull so the slip knot slides onto the hook
Stretch the measuring tape across your torso from 1 side to the other. Hold the end of a measuring tape on the side of your ribcage where you'd like the crop top to fall and stretch it to the opposite side of your ribcage.
Write this number down so you know how long to make your foundation chain for the bottom of the crop top.
Make a foundation chain that's as long as your measurement. To make a chain, wrap your yarn around the hook and pull the hook through the loop. Keep making chains until the foundation chain is as long as the measurement you just took.
Making the Body
Single crochet into every chain of your foundation row. To make a single crochet stitch, put your hook into the chain that's closest to your hook.
Grab the working yarn with your hook and pull it onto the hook. Then, wrap the yarn around the hook and pull it through both of the loops. Continue to make a single crochet stitch into each of the chains on the row.
Make 1 chain and turn your work. When you reach the end of the first row, wrap the yarn around your hook and pull up the loop to make a chain. Then, flip the piece of crocheted fabric over so you can start crocheting the next row
Work single crochet stitches across the row until the band is the size you want. Keep making 1 SC into each stitch and crocheting 1 chain when you reach the end of a row.
Make the first decreasing row to begin the halter portion. Turn the work and skip the first stitch.
Single crochet in every stitch across the row. The decreasing stitches make diagonal sides that form the halter-style top.
Turn the work and crochet decreasing rows until you've finished the neckline. Continue to skip the first stitch of every row and make a single crochet into the rest of the stitches for the row.
Crocheting the Straps
Make a strap that's 120 to 150 chains long. Don't cut the yarn when you finish crocheting the body. When you reach the end of your last row, which is the neckline, start making a long chain that you'll use to wrap and wear the crop top.
Slip stitch back through each of the chains to create a thicker strap. To make the strap sturdier and more comfortable, insert your hook back through the last chain you made.
Wrap your yarn around the hook and pull it through the loops to make a slip stitch. Keep slip stitching through each of the chains until you reach the neckline where you started the strap.
Single crochet across the neckline to reach the end of the row. Instead of cutting the yarn to begin another strap, just make 1 single crochet stitch into every stitch across the neckline.
Crochet an identical strap. Chain up another strap that's the same length as the opposite one you made.
Slip stitch back through it as you did with the other one. Remember to make the same number of chains so the straps are even.
Pull each strap through the bottom at the opposite corner. Lay the crop top so it's face down and take 1 of the straps.
Pull it diagonally across the crop top. Repeat this for the other strap so they both form an X shape.
Push your hook from the underside of the top through the bottom corner and grab a strap. Pull the strap through and repeat this for the other side.
Crochet Top Options
Long sleeve color blocks hollow out shirt, patchwork crop top, hook hole, crochet boho shirts, casual loose crop tee shirts.
Hollow out crochet-knit sweater crop tops perfect for casual daily, club, dance, TikTok, photoshoot, shopping, street, weekend, party, family gathering, matching outfits, etc.
Pair this fashion must-have with baggy pants, wide-leg jeans, flare pants, high heels, blazer, jacket, coat, etc.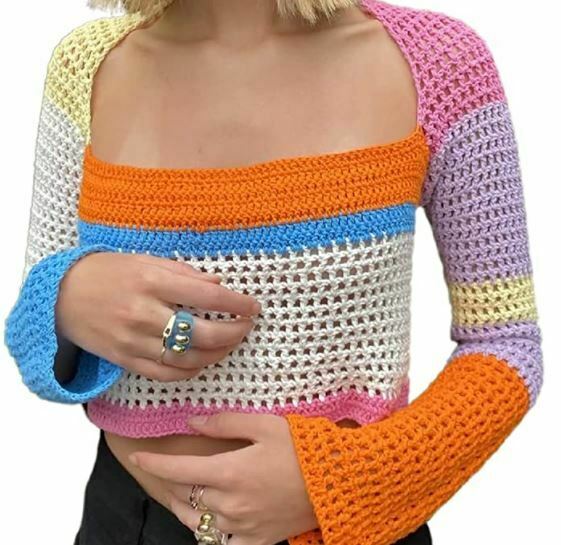 Features:
Scoop neck
100% Polyester
Colorful
Crochet crop, halter neck, back keyhole, classic and iconic style that will never be out of fashion, so special for you.
Suitable for you in spring or summer beach essentials with a flirty appeal. Yes, you can wear it to your sexy club evening party.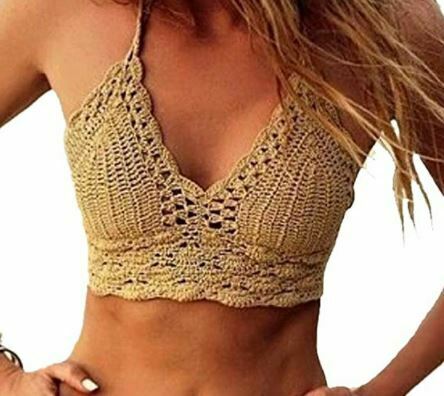 Features:
This oversized crochet top features a loose fit, V-neck, drawstring, hollow out, cropped, lightweight, bell sleeve and it is also casual and fashionable.
It is soft and not itchy like some sweaters can be and you will love how the front is adjustable which makes this top versatile for different outfits.
It can be easily matched with skinny jeans, skirts, shorts, and casual pants.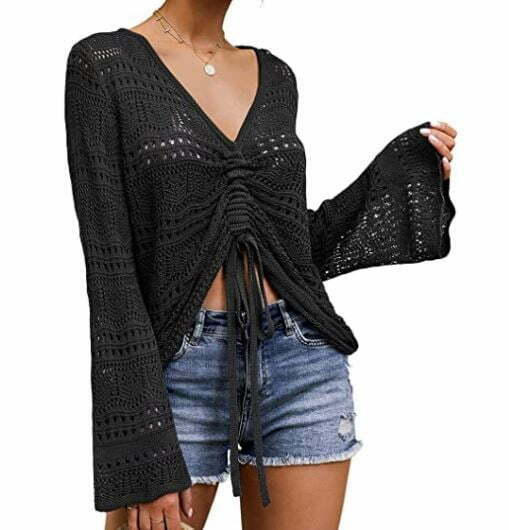 Features:
High quality knit fabric
Comfortable
Versatile
Wear it as a cropped tank itself without a bra, or wear it over a long sleeve shirt for a more casual look.
You can also dress up inexpensive basics with accessories. Something like a beautiful designer bag or belt, necklace, add a pair of heels for a richer look;
This looks so cute now with high-waisted shorts and it will be so cute in the colder months with a flannel or cardigan.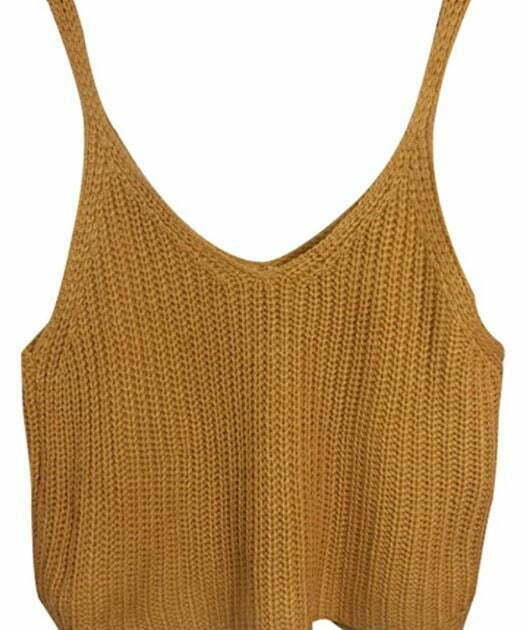 Features:
V-neckline
100% Acrylic
Pull-On closure
This is a great top for summer. You can even use it over a dress or with shorts. The quality is very good.
Perfect for a casual style, and for daily wear in summer.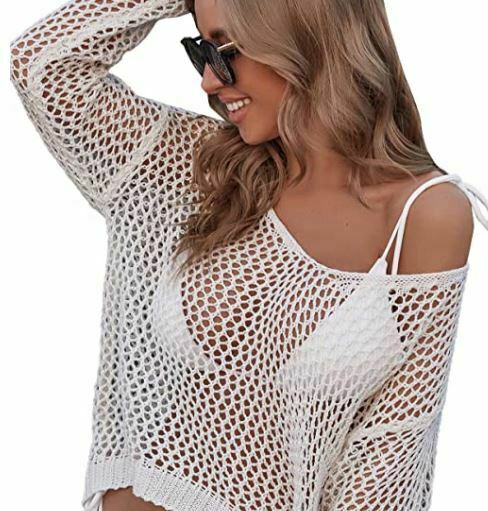 Features:
100% Polyester
Scoop neck
Long sleeve