In the search for the best ribbon? With the holidays upon us, ribbons are heavily used to wrap gifts; that said, ribbons have many uses and are great for all your crafting needs. It is safe to say that ribbons are one of the most versatile materials around, so today, we'll be telling you all about different types of ribbons.
Whether you are a creative ribbon for crafters or sewers lovers or a gift-givers ribbon person who wants to enhance wrapping paper, there's probably a type of ribbon to suit your needs. Ribbons can be found in all shapes, sizes, textures, colors, and fabrics. With so much variety, it can be challenging to choose the right kind.
Different types of ribbons are great for you if you want to expand your sewing and craft accessories. When it comes to the types of ribbons available, the list is extensive; however, we'll be telling you about the most well-known and easy-to-find ribbons on the market today. And feel free to choose the best type of ribbons for your next project.
How are ribbons categorized?
Ribbons may be divided into two main types: woven and non-woven.
Woven types are essentially narrow bands of cloth with specially finished edges. The flexibility and durability of woven ribbons make them well-suited for clothing, home décor and crafting.
Non-woven may be made from textile yarns bonded by adhesive, but more commonly, are manufactured from plastics.
Non-woven ribbons may be given qualities that allow them to be curled, shredded, and treated in other ways that make them particularly useful for crafting and gift wrapping. Both types may be further identified by texture, pattern, or embellishment.
What are the most common types of ribbons?
Acetate Ribbons are stiffer, with a satin finish, and are often used for floral arrangements, pew bows, and packaging.
Chiffon, organdy, and organza are varieties of very lightweight, open-weave varieties commonly referred to as "sheers."
Curling ribbons are coated or crimped so that when pulled against a sharp edge, like that of scissors, the strand acquires a corkscrew aspect.
Grosgrain Ribbons are a durable yet supple woven type. The characteristic crosswise ribs give grosgrain enough body for a crisp appearance.
Iridescent ribbons have a pearl-like finish revealing changeable colors depending on the light or the angle of view.
Jacquard is a type of weave used to produce visual effects. The term sometimes refers to ribbons with embroidery on them.
Moiré Ribbons have a rippled or "watermark" appearance.
Ombre describes those with coloring that transitions from one hue to another.
Poly ribbon, made from polypropylene, is typically gleaming and can be made waterproof for outdoor use.
Satin Ribbons have a very smooth, shiny finish. They may be single-faced, shiny on one side and dull on the other, or double-faced, shiny on both sides.
Taffeta Ribbons are made of lightweight fabric, which may or may not be translucent. The ends tend to fray easily, so they should be cut on the bias, or at an angle, rather than straight across.
Velvet Ribbons have a tight weave and a low cut pile surface, the velvety side, with a plain underside. They require particular care so that the plush surface does not get flattened and shiny.
Wired Ribbons have fine wires placed in the selvage edges so that, once established, the arrangement keeps its shape.
Organdy. Constructed of silk, cotton, or rayon, organdy is unique in its thin and transparent composition. It is both lightweight and easy to work with, and its iridescent finish makes an elegant statement.
Seam binding is used for hemming garments; seam binding ribbon also makes an unexpected present-trimming material. Spools often come in affordable 100-yard supplies and are widely available.
Print. Printed ribbons appear pretty similar to jacquard but typically only have one patterned side. This is a less expensive alternative to luxe jacquard.
Picot edge. This decorative and affordable ribbon is excellent for everything from tying bows to hanging ornaments. Lined with small twisted loops down the sides, the picot edge lends a pretty feathered texture to any project.
What is the most common type of ribbon available?
One of the most widely used ribbon types is the grosgrain ribbon. You may know this ribbon by its distinctive ridged pattern. The angular fabric is both supple and durable, lending itself to various applications. It ties nicely and provides firmness when sewing it into other fabrics.
What kind of material are ribbons made of?
A ribbon or riband is a thin band of material, typically cloth and plastic or sometimes metal, used primarily as decorative binding and tying. Cloth ribbons are made of natural materials such as silk, cotton, jute, and synthetic materials, such as polyester, nylon, and polypropylene.
What are the best types of ribbons for crafts?
Metallic ribbons look beautiful but are generally very stiff and, therefore, best for craft projects rather than sewing.
Best Types of Ribbons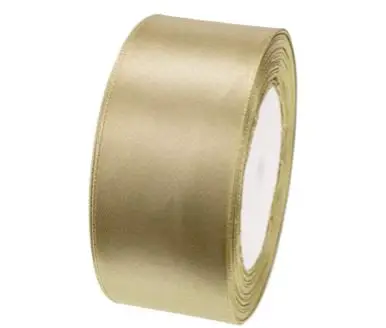 Ordinary single-sided satin ribbons are less density than double-sided ribbons; only one side is smooth, meeting daily general needs.
The colors are bright and do not fade. Suitable for gift wrapping, festivals, decorations, weddings, handicrafts, handmade bows, etc.
Features:
Polyester
Art Deco
Gold color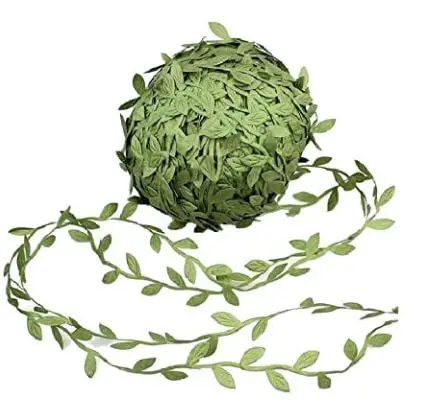 Great quality ribbon ideal for birthdays, weddings, garments, packaging, arts and crafts, scrapbooking, centerpieces, table settings, and bouquets.
Great for event decorations; perfect for sewing, scrapbooking, decorating, hair bow making vintage sewing, craft projects, card, paper crafts, decorating gift baskets, accenting home textiles, and many more projects.
Handcraft projects such as sewing projects, jungle-papered letters, gift wrapping, and wall hanging. bridal headdresses, wedding invitations, corsages, party decorations, and streamers.
Features:
Polyester
Green color
Multi-purpose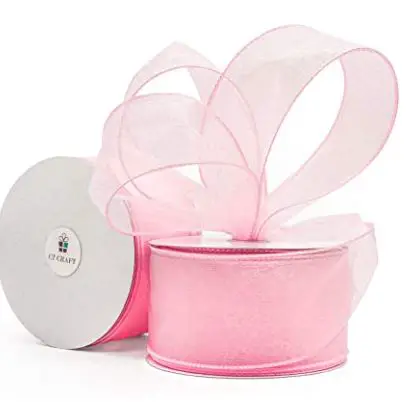 This sheer organza-wired ribbon works perfectly for decorating and adding the finishing touch to your craft projects. Simple and elegant, our craft sheer ribbon adds a 'natural' feel like a gift.
This gift-wrapping sheer wired ribbon has a density weave so that you won't find any loose edges. You won't find any fraying ends or loose strings anywhere, making our sheer wired ribbon perfect for high-end and professional DIY works and Crafts.
The 25-yard-long sheer wired ribbon is enough for all the decorating and accenting your DIY Crafts. The ribbon for gift wrapping is easy to use and won't tangle.
Features:
Elegant
Sheer wired
High-quality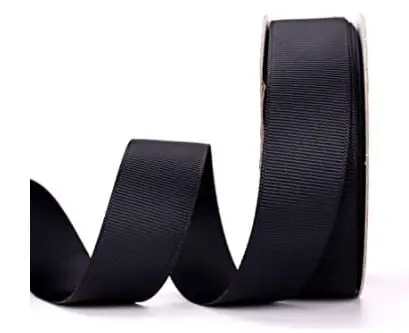 High-temperature dyeing, not easy to fade, bright colors, machine washable without fading. Because of different weaving methods, and clear lines, the grosgrain ribbon feels a thick, firm texture, more three-dimensional than soft ribbon.
Perfect for wedding invitations, bridal bouquets, baking packaging, scrapbooks, headbands, bottle decorations, sewing, gift wrapping, handmade craft, apparel accessories, etc.
Features:
100% polyester
25 yards
Durable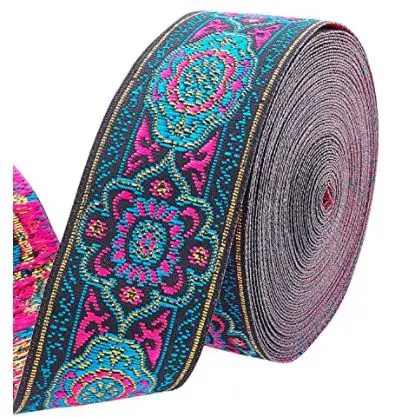 High-quality ribbon made of polyester with bright color thread to tightly be woven and high strength. Jacquard is such a dexterous ribbon; it is the perfect addition to any project.
Perfect for home décor accessories, clothing, purses, scrapbooking, headbands, hair accessories, holiday cards, picture frames, placemats, quilts, table runners, pillowcases, towels, aprons, scarves, belts, wallets, dog collars, etc.
Good decoration ribbons on your DIY craft projects for gift wrapping, bridal, wedding, birthdays, valentine, and anniversaries to be more unique, have national characteristics, and have retro atmosphere.
Features:
Jacquard, Polyester
Embroidered
Vintage
Video Tutorial About Different Types of Ribbon and Their Uses
Common Questions About Types of Ribbon
What kind of ribbon is best for making bows?
It depends on what type of bow you want to make. Some bows look best with a shiny, satin ribbon, while others need a more textured ribbon like grosgrain or sheer. You can also use double-sided tape or glue to attach the ribbon to the bow form.
Some of the most popular types of ribbon are:
Satin Ribbon
Grosgrain Ribbon
Sheer Ribbon
Organza Ribbon
Velcro Tape or Glue
Each type of ribbon has its own unique properties that make it ideal for certain types of bows. For example, the satin ribbon is very smooth and shiny, making it perfect for creating bows with a sleek and elegant look.
On the other hand, the Grosgrain ribbon is more textured and less shiny, making it ideal for creating more rustic-looking bows. Sheer ribbon is very light and airy, making it perfect for creating delicate Bows.
Organza ribbon is also quite sheer, but it has a bit more body than sheer ribbon, making it ideal for creating fuller bows. Velcro tape or glue can be used to attach the ribbon to the bow form without adding any bulk.
When choosing a type of ribbon for your bows, it is important to consider the overall look you are going for.
Do you want a sleek and elegant bow? A rustic-looking bow? A delicate bow? Or a fuller bow? Once you have decided on the overall look you are going for, then you can choose the type of ribbon that will best suit that look.
So have fun experimenting with all the different types of ribbons until you find the perfect one for your project!
What is the best ribbon?
The best ribbon is the type that best suits the purpose for which it is being used. For example, a sheer ribbon is perfect for adding a touch of elegance to a gift, while a sturdy ribbon is better suited for holding together packages or parcels.
What are the different types of ribbon bows?
There are many types of ribbon bows, such as the loop bow, the half-bow, the French bow, and more. Each type has a different look and feel, so choosing the right one for the right occasion is essential. Ribbon bows can be used to embellish everything from presents to hair accessories, so there are plenty of options to choose from.
When it comes to choosing the right type of ribbon bow, it's essential to keep a few things in mind.
First, consider the occasion. A formal event might call for a more sophisticated bow, like the French bow, while a more casual affair could be adorned with a loop bow. Second, think about the material of the ribbon. Satin ribbons work well for special occasions, while grosgrain ribbon is ideal for everyday items.
Lastly, choose a color that compliments the item you're embellishing. With so many options available, it's easy to find the perfect type of ribbon bow for any project.
What is poly ribbon?
Poly ribbon is a type of ribbon made from synthetic materials like plastic, nylon or acetate. It's strong and doesn't stretch as much as other types of ribbon, making it ideal for bow-making and other crafts that require a lot of stability. Poly ribbon is also less likely to fray than natural fibers like silk or cotton, making it a better choice for projects that need to look polished and professional.
What is ribbon in fashion?
Ribbon is used in fashion to add a finishing touch to clothing and create bows, sashes, and belts. Types of ribbon include satin, grosgrain, organza, sheer, and silk. Ribbons can be used to make accessories such as headbands and hair bows.
It can also be used to embellish clothing by adding a ribbon trim to the hem of a skirt.
Ribbon is a versatile material that can be used in many different ways to create unique and stylish looks. So next time you want to add a finishing touch to your outfit or create a new accessory, consider using ribbon!
What kind of ribbon is used for wreaths?
A Wreath ribbon is typically a wide, sheer ribbon that is easy to tie into bows. It can be made from various materials, such as silk, satin, or velvet.
What is the difference between grosgrain and satin ribbon?
Grosgrain ribbon has a textured surface and is made from woven fabric. It is often used for making bows because it holds its shape well. Satin ribbon has a smooth, shiny surface and is made from a synthetic fabric. It can be used for various purposes, such as wrapping gifts or decorating wedding cakes.
What is the best type of ribbon to use for crafts?
The best type of ribbon to use for crafts depends on the project you are working on. Grosgrain would be a good choice if you need a strong, durable ribbon. If you need a softer, more delicate ribbon, satin would be a better choice.
What is the most popular type of ribbon?
The most popular type of ribbon is satin. Its smooth, shiny surface makes it a versatile choice for various purposes. Whether you're wrapping gifts or decorating a wedding cake, the satin ribbon will add a touch of elegance to your project. Thanks for reading! I hope this article helped answer some of your questions about different types of ribbons.
Is silk ribbon the same as satin ribbon?
Silk ribbon and satin ribbon are two different types of ribbon. Silk ribbon is made from silk fibers, while the satin ribbon is made from cotton fibers. They each have their own unique characteristics, such as the way they feel and how they reflect light. Silk ribbon typically has a shinier appearance than satin ribbon, which is usually softer than silk ribbon.
What is an organdy ribbon?
Organdy ribbon is a sheer, delicate type of ribbon that is made from silk or rayon. It has a very stiff texture and a shiny finish. This ribbon is often used for bows, flowers, and other decorations.
What is a grosgrain ribbon?
Grosgrain ribbon is a type of ribbon that has a ribbed texture. It is made from silk, wool, or synthetic fibers. This type of ribbon is often used for making bows and other decorations.
What is a velvet ribbon?
Velvet ribbon is a type of ribbon that has a soft, velvety texture. It is made from silk or synthetic fibers. This type of ribbon is often used for making bows, flowers, and other decorations.
What is a satin ribbon?
Satin ribbon is a smooth, shiny type of ribbon that is made from silk or synthetic fibers. This type of ribbon is often used for making bows, flowers, and other decorations.
What is an organza ribbon?
Organza ribbon is a sheer, delicate type of ribbon that is made from silk or synthetic fibers. It has a very stiff texture and a shiny finish. This type of ribbon is often used for making bows, flowers, and other decorations.
How to Wash Ribbons?
There are a few ways to wash ribbons, but the most important thing is to ensure the ribbon doesn't fray. One way to do this is to hand wash them in cool water with a gentle soap and then lay them flat to dry. You can also use a washing machine, but only on the cold setting and use a delicate cycle. Finally, you can also put them in the freezer if they need urgent cleaning.