Are you in the search of the best leather sewing machine? Then you are in the right place. If you are a fan of leather, then you have probably realized that great-looking leather pieces often involve magnificent sewing; which is why we'll be sharing with you different leather sewing machine options.
To put together leather pieces or produce in volume, you'll most likely be greatly benefited from the use of a leather sewing machine. Though regular sewing machines can also get the job done, leather sewing machines take your piece to the next level. Rest assured that if you own a lot of leather clothes and you want to do some fixing on your favorite leather jacket, a leather sewing machine is a way to go.
Before you go out and choose a leather sewing machine, it is important to know what machine and accessories will be most helpful to the style of leatherwork you'll be doing. Get to know more about leather sewing machines and where to find them.
Leather Sewing Machine FAQ's
What is a leather sewing machine?
A leather sewing machine is a tool used to stitch leather together. Using electrical or foot power, it mechanically drives a needle through leather material, stitching pieces together.
Leather sewing machines are powered tools used to stitch leather together. They are generally industrial-strength. This allows them to penetrate thick, heavy material, and run for hours without overheating.
How much does a leather sewing machine cost?
Leather sewing machines range in cost from about $500 to about $2,000. while standard sewing machines are available to start at around $150, leather sewing machines need to be built with more durable components. Prices range from about $500 – $2000. A well-maintained machine can last decades.
Do I need a heavy-duty sewing machine to sew leather?
Ideally, you'll want a heavy-duty sewing machine to sew leather; these machines have stronger motors and are able to pierce leather skins more easily with a dedicated leather needle.
What is the difference between a leather sewing machine and a standard sewing machine?
Leather sewing machines are different in a few key ways.
Power: Standard sewing machines provide around 100 watts of power. Some industrial and leather sewing machines provide up to around 550 watts. That is a huge power difference. It is also necessary to much through thicker, heavier leathers.
Weight: These machines are usually constructed from heavy-duty materials and require a solid table on which to sit and provide steady stitches. While standard sewing machines might weigh 15lbs, leather sewing machines can weigh up to 60lbs.
Sound: Usually, the larger industrial sewing machines generate a little more noise during operation. This is due to the larger mothers used, which are louder during operation.
Larger Foot Control: Standard machines have a small foot pedal on which to press down to control sewing speed. Industrial machines might have an entire platform for both feet to comfortably rest.
Needles: Standard needs are thin and able to piece more delicate fabrics. For example, cotton can be seen with a #10 needle. Leathers sewn on industrial machines might use heavier needles sized up to around #20.
Thread Thickness: Thicker threads are usually used in leather sewing machines. Standard machines might use a light #46 thread. An industrial sewing machine might use #346, much thicker and heavier.
Thread Type: Cotton threads are commonly used with thinner materials. Leather sewing machines often will use nylon or polyester thread, which are stronger and can better hold together the heavier material.
Maintenance: Standard sewing machines recommend oiling the mechanical parts about once per week. Leather sewing machines require more frequent oiling, usually about after every 8 hours of use. Depending on the frequency of use, that could be once per day.
Stitch Rate: Measured in stitches per minute (spm), standard sewing machines sew at about 850spm. Leather sewing machines can sew up to 3,000spm.
Stitch Lenght: Standard machines offer stitch lengths up to around 6.5 mm. Industrial machines run to about 10mm. This allows for longer stitches to more securely attach thicker, heavier materials.
What kind of thread is used for leather?
Generally, leather is sewn with nylon or polyester threads. The strength of the synthetic materials in them is often beneficial to the finished pieces, allowing them to hold up longer. Of the nylon threads, there are two popular varieties.
What size needle do you need to sew leather?
The needle size you need for sewing leather will depend on your sewing machine and the thickness of the leather you will be sewing. Leather needles range in size from 70/10 through to 110/18.
What are the main types of leather sewing needles?
Hand Leather Sewing Needles: There are leather-specific needles that have wider points to help pierce thick leathers. There are curved needles (they have a semi-circular, half-moon shape) that make it easier to push through thicker materials such as leather and canvas.
Machine Leather Sewing Needles: These are usually straight needed of varying thickness. They are placed into leather sewing machines and used for the mechanical sewing of leather goods.
Can you use a normal sewing machine for leather?
Yes, you can. You can sew leather on a home sewing machine. Any good-quality home sewing machine should be able to handle leather; you just need to make a few simple modifications to get your machine leather-ready.
Leather Sewing Machine
The 23 built-in stitches including basic, stretch, decorative, and buttonhole stitches allow you to sew a variety of projects, such as fashions, home décor, quilts, crafts, and more.
The Singer 4423 heavy-duty sewing machine is a true workhorse. With a heavy-duty metal interior frame, stainless steel bed frame.
Also featuring extra-high sewing speed and a powerful motor, this sewing machine can sew through a variety of heavyweight fabrics and provides long-lasting stability.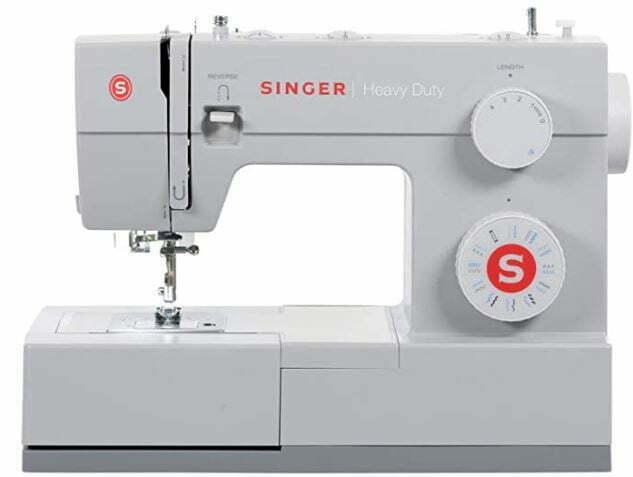 Features:
Corded Electric
Metal
Heavy-duty
This machine is ideal for the people who sew heavier things like professional curtain makers, Jeans, some leathers, Boat canvas, etc.
With a longer needle bar stroke and take-up system and also heavier feed and foot system and a higher foot lift of 13 mm.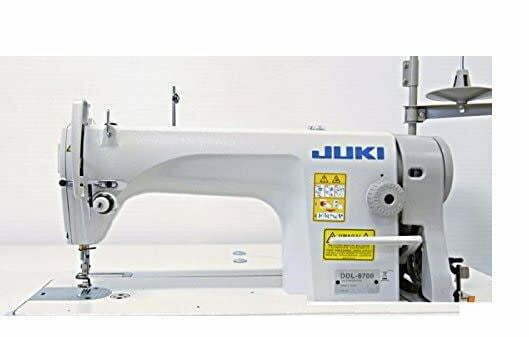 Features:
Thread Stand
Bobbin Winder
High-Speed
The ST371HD heavy duty sewing machine includes 6 sewing feet, instructional DVD, manual and more.
This free-arm sewing machine is perfect for a wide range of everyday sewing projects, and users from beginning to advance.
This sewing machine includes an automatic needle threader that perfectly pushes the thread through the needle and a convenient, jam-resistant drop-in top bobbin.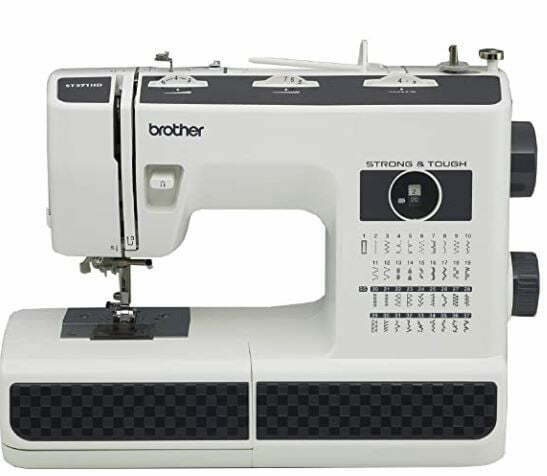 Features:
Automatic needle threader
Treadle Powered
Metal
The HD-1000 by Janome provides super sturdy construction and easy-to-use features for a dependable and enjoyable sewing experience.
Heavy-duty aluminum body construction makes this machine a great choice for the sewist looking to tackle a wide range of fabrics and sewing types.
14 stitches and a four-step buttonhole provide stitches for a range of applications. You'll even find extras like a built-in needle threader and storage tray.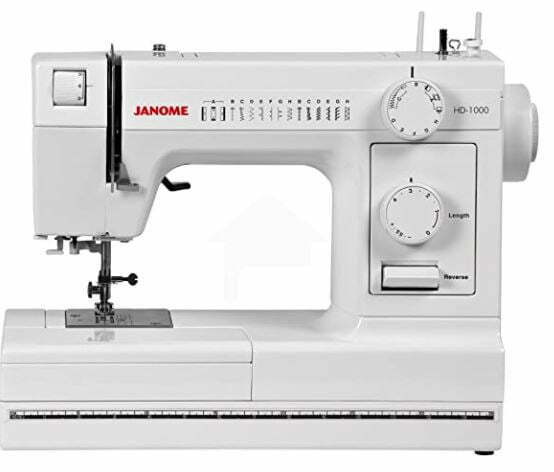 Features:
Metal
Treadle Powered
Built-in needle threader
This machine adopts a connecting rod-type feeding mechanism, stable operation, small backstitch error, uniform stitch, and a beautiful appearance.
It is suitable for sewing all kinds of thin and medium-thick material clothing, fabrics, etc. in clothing, knitting, and other industries.
Adopt a double-threaded large rotary hook greatly improves the sewing efficiency. Maximum sewing speed 3000S.P.M, more suited for clothing knitting industry production, suitable for sewing jeans, tents, leather, heavyweight fabrics.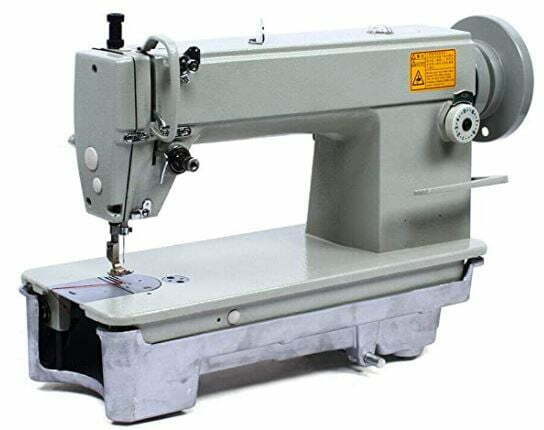 Features:
Lubrication Design
High Speed
Heavy Duty
Would you also be interested in checking some amazing vintage sewing machines?