Are you a fan of tie dye? Then you can't pass on the chance to get yourself a cool and trendy tie dye hoodie for the holidays. According to fashion and style experts tie dye will still be a trendy style, which is why today, we'll be sharing with you some of the best tie dye hoodie options.
Since the pandemic started, most have lived in sweatpants and hoodies, so it is no surprise that retailers began to offer various and different styles and designs. One that has gained major attention is, yes you guessed it, tie dye sets. In addition to the obvious comfort hoodies offer, these are equally convenient, as they aren't only cheap and easy to wash, but you can also take them virtually anywhere and still pull off a great trendy look.
So whether you are a hoddie lover or are just curious about the tie dye trend, and are still deciding whether it is for you or not, consider this is a style that is not going anywhere anytime soon so you might as well give it a try. Check out below some of the best tie dye hoodie options that we are certain you will look great in them.
Tie Dye Hoodie FAQs
Can you wash a tie dye hoodie?
Try soaking your tie dye in equal parts white vinegar and cold water for 30 minutes after you initially rinse out the dye from your garment. The vinegar helps with colorfastness. After the first couple washes, wash tie dye in cold water to prevent dye from fading. Use gentle, color-safe detergents.
Can you put a tie dye hoodie in the dryer?
Always air dry if possible. If you're not able to air-dry your tie-dye hoodie every time, consider drying it in the dryer on a medium or low heat setting. This will help your tie-dye hoodie last a long time and you'll be able to appreciate those bright colors and fun patterns for years to come.
Should I let my tie dye dry before washing?
You'll want to wait about 24 hours before washing, so the dye has plenty of time to set, according to experts. Then, when it's time to give your garments their inaugural scrub, wear gloves and give them a good rinse under running water to get rid of any excess dye.
Is it better to tie dye wet or dry?
It is generally recommended to wash your fabric and leave it damp before tie-dyeing, as the dye has an easier time saturating the fabric when it's wet. Applying dye to dry fabric results in more color saturation but less uniform permeation throughout the fabric.
How to tie dye a hoodie at home?
Supplies:
White Hooded Sweatshirt
Tie Dye Kit
Baking Racks
Disposable Gloves
Trash Bags
Directions:
You'll want to start this project by washing your hoodie. This will get out any chemicals or softeners that might have been put on the garment.
Do not dry the hoodie. Leave it damp. Using a wet sweatshirt makes it easier for the dye to penetrate the fibers of the garment.
Now you'll want to fold your shirt for the desired effect of the tie dye.
Make sure your shirt is thoroughly secured with rubber bands or ties. Just make sure it will stay the way you've folded it.
By using the baking rack, the dye is able to just drip down to the bottom instead of settling and mixing with other colors where you don't want it.
By keeping it up off the surface, you can prevent the unintentional mingling of colors. Mix up your dye according to package directions, making sure to wear your gloves.
Now you can apply your color. Make sure you dye the hoodie's front and back, using plenty of dye.
Once you've finished applying the color to your tie dye hoodie, wrap it in plastic to keep it damp.
Next, you need to rinse out as much dye as you can from the shirt, while it's still bundled up. This will help prevent accidentally dying areas you don't want dyed.
Then unbundle your shirt. Once you're happy that you've rinsed it completely, you'll want to wash your tie dye sweatshirt in the washing machine by itself, with just a little bit of detergent.
Once it's washed, you can throw your tie dye hoodie in the dryer or hang it up to dry. Whatever you would normally do with it.
What to keep in mind when choosing a tie-dye hoodie?
Design: Within the general category of sweatshirts, there are a number of style options. One popular choice for outdoor wear is a hoodie with an open-front or zip-up appearance. More casual sweatshirts for workouts or lounging are crewneck pullovers that resemble long-sleeve T-shirts.
Tie-dye style: Tie-dye specialists use a number of techniques to create a range of designs. One of the most common is a spiral pattern of contrasting colors. By changing the orientation of the bands, a concentric circle or bullseye is also possible. Crumpling the material before dyeing creates a random series of splotches, while stripes and dots are possible with precise banding.
Size: Many sweatshirts are designed with generous proportions, but some are meant to be more form-fitting or revealing. Different manufacturers may have their own sizing guidelines, which can run smaller or larger than standard small, medium, and large options.
Color Scheme: Traditional tie-dye tends to use bold, contrasting colors such as orange, yellow, and red. However, there are dyes available in more muted pastel shades and even some black and gray gradations. Earth tones and saturated jewel tones are also popular.
Material: Because of the nature of most cloth dyes, cotton is the preferred material for tie-dyeing. However, some hoodies may have a blend of cotton and polyester that can still survive the process. If a sweatshirt made from synthetic material features a tie-dye print, it's most likely a graphic design, not actual tie-dye.
Tie Dye Hoddie
This 1/4 zip-up collar hoodie, with adjustable drawstrings, two side roomy pockets to keep your hand warm, tie dye printed sweatshirt, plaid color block fleece pullover, relaxed fit, super chic and fashionable, make a feminine style.
Tie-dye zip-up hoodie is in trend, this simple, fashion style hoodie definitely makes you pop out, it goes well with all your jeans, skinny pants, jeggings, leggings, great for cold days in fall and winter.
It is made with soft fabric, making it comfier against the skin, you will never want to take it off.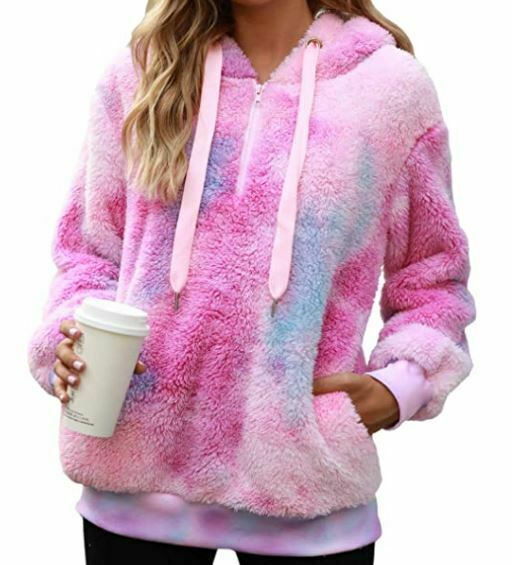 Features:
Fleece
Versatile
1/4 zip up collar hoodie
This tie-dye hoodie is a great choice for winter! Tie-dye and hoodie elements can exude youthful vitality and are essential to your wardrobe.
Expect comfortable fabric, essential for keeping warm in autumn and winter! This stylish design is suitable for a variety of occasions in autumn and winter, whether it is worn alone or with a jacket.
Suitable for dating, hanging out, cocktail, daily casual, work, vacation, travel, gala, birthday, style with your favorite jeans, casual pants, leggings.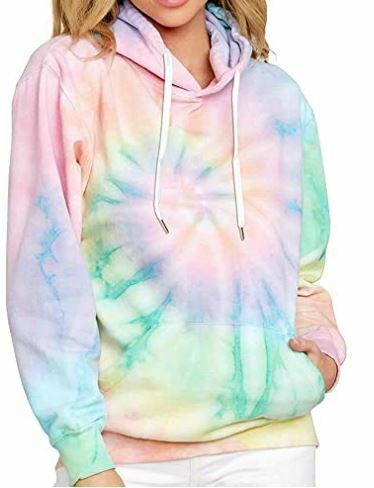 Features:
Drawstring Hoodies
Long Sleeve
Loose Fits
This great-looking hoodie features a round neck with cute drawstrings, long sleeves, a slim fit and it is also comfortable soft to any body shape.
Women's hoodies designed with chic styles and fine quality will make you fashionable over both the fall and winter.
This color block tie dye pullover sweatshirt looks great pairing with high waist leggings, shorts, skirts, jeans, etc.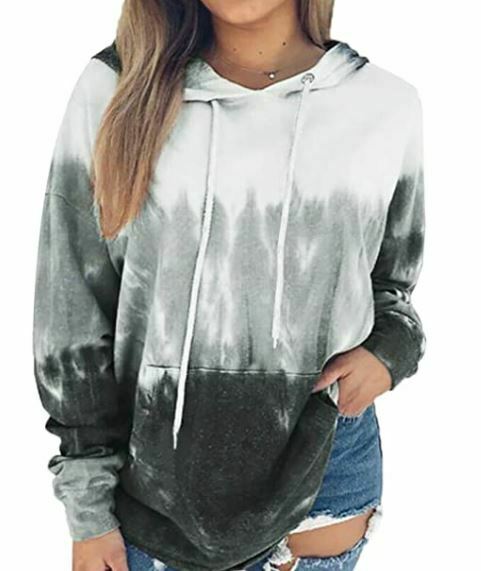 Features:
Polyester
Spandex
Hand Wash Only
This tie dye hooded sweatshirt brings any ensemble to life with eye-catching hues and bohemian-inspired patterns.
Whether you're heading to the gym, lounging at home, or stepping out for the weekend, this pullover hoody treats you to all-day comfort.
It is made using a breathable blend of 80% cotton and 20% polyester knit into extra-soft fleece. This stylish sweatshirt also comes with cool kangaroo pockets to give you some storage space and a ribbed cuff & bottom to create an even better fit.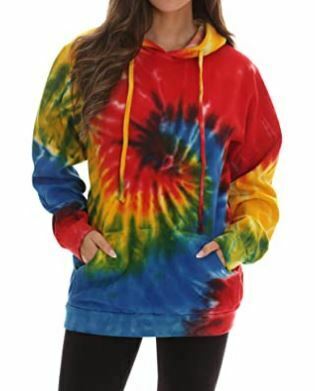 Features:
This crop top hoodie sweatshirt is also long sleeve, comes with a unicorn tie dye print, and drawstring design.
You can expect the fabric of this crop top hoodie to have some stretch. It offers a regular fit, as well as being lightweight, soft, and comfortable. For Women and Juniors.
You can pull off a casual, school work, sports, or daily life look; it is a good choice to match with high waist leggings or jeans.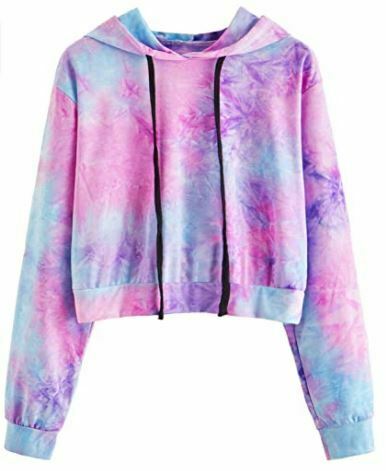 Features:
Long Sleeve
Tie-dye Print
Drawstring Hooded design
Add your sweet tie dye sweatpants and tie dye crocs!!