Are you looking for the perfect button? To choose the one button you are looking for, you may want to know about the different types of buttons. As you probably know, buttons come in all shapes and sizes and can be made in all kinds of different materials. The reason why getting to know the different types of buttons will come in handy in your quest.
Choosing the correct types of buttons can be daunting when you consider the huge selection available. Perhaps you are passionate about sewing and collecting buttons as a hobby. In fact, buttons inside a glass jar can add a touch of color to any room and form part of your décor.
As you can see, buttons secure an opening in garments and consider accessories and home décor. Get to know the different types of buttons so you can get a refreshing outlook on your everyday clothing and favorite outfits.
Brief History of Buttons
Buttons have existed for centuries. Throughout history, the rich wore clothes with buttons, but the poor could not afford them.
Once affordable for only the wealthy, buttons were traditionally hand-made from seashells, wood, and metal. In the latter part of the 19th century, black buttons made of glass were popularized by Queen Victoria, who wore them after the death of Prince Albert.
When the industrial revolution occurred, buttons were manufactured and mass-produced, making them more affordable and commonly used. In the 20th century, modern buttons were both decorative and functional. They have stuck around even after the zipper was invented. Nowadays, everyone fastens their clothes with the same buttons.
Shape. Buttons come in different shapes; consider the type of garment you will use first.
Manufacturing process. Due to the difference in shape, different types of buttons undergo different manufacturing processes and, depending on needs, can be made with different materials.
Application. Let's, for example, flat buttons, which are generally unsuitable for heavier garments, and mix-and-matching colors and shapes can be complicated. Due to their more rigid structure, shank buttons are more suitable for heavier garments, such as leather jackets or turncoats.
Different Types of Buttons
Buttons by Shape
Flat Buttons
Flat buttons are the most common type of buttons. They can be made of wood, metal, glass, and even ceramic.
Flat buttons are made from resin or natural materials with two or four holes. Because they are flat, the manufacturing process is not so complicated.
Flat buttons can be mass-produced and can be sewn on by sewing machines. Flat buttons are typically used in blouses, shirts, and coats.
Flat buttons can also come with fancy ridges or edges, which are not always completely flat.
These buttons are high quality which will be perfect for matching your clothes. High-quality buttons, metal plane, very smooth, modeling fashion.
These can be easily attached by hand or with a sewing machine, especially when using a fine thread or yarn, and they can be made of wood, metal, glass, and even ceramic.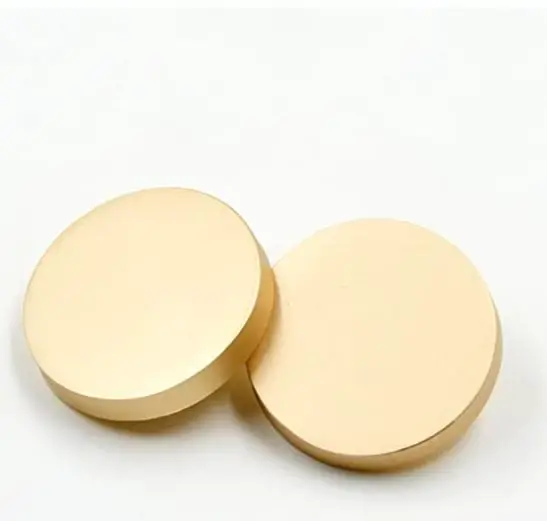 Features:
Shank buttons
Shank buttons are buttons without holes in the face.
A protruded loop or hole in the back is used to attach buttons to the fabric.
The protruded loop can be molded directly from the buttons, such as glass and resin buttons. Also, it can be a separate piece fixed into a button unit.
This metal button can be used for wrapping bracelets (leather bracelets, bead woven, kumihumo, etc.) It can also be used for sewing buttons for clothing, bags, or other craft projects.
Great for leather wrap bracelets, bracelet closures, crochet, sewing purpose, crafting projects, knotted or square knot bracelets, necklaces, or any other projects you desire.
These are also Zinc alloy metal shank buttons, lead and nickel free.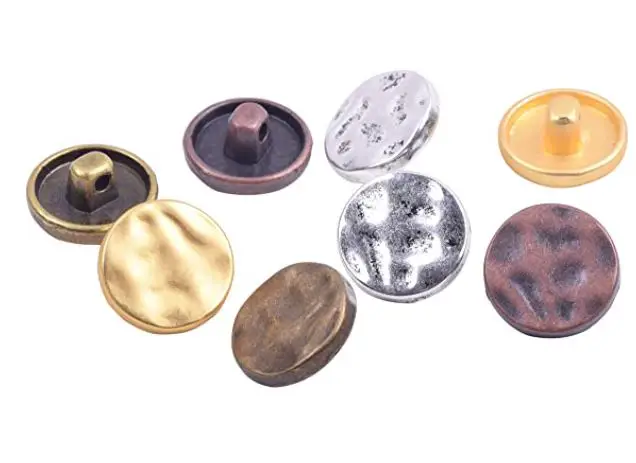 Features:
Nickel-free
Two holes
Hammered
Stud buttons
Stud buttons are widely used in jeans. Stud buttons have two parts and are pressed onto fabric with a particular machine.
Some patterns or logos are usually engraved on the face of jeans buttons for individuality.
These are great for belts, leather bags, clothes, shoes, straps, handmade leather, and DIY project. They are easy to install and use, meet different needs, are practical, and are not easy to rust.
Made of high-quality material, it provides excellent durability and reliability.
Features:
Screwback Rivet
Silver color
Not easy to rust
Toggle Buttons
Toggle buttons have a unique elongated oval shape with a hole in the center to hold them in place. Besides, they are usually matched with rope loops to function. Toggle buttons are often selected for thicker coats and duffel jackets, etc.
2 Holes Resin Buttons for DIY sewing, crafts, coats, and blazers. Each button is 50mm, white in color with a stripe.
These are made of resin, smooth surfaces with comfortable touch, and are also eco-friendly, drily cleanable, and washable.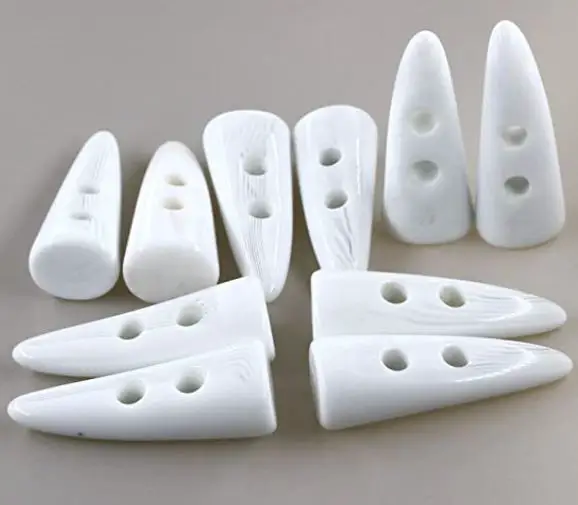 Features:
Eco friendly
Dry clean safe
Resin
Decorative Buttons
These buttons are not only a fastener but also a fancy decoration item. Sometimes, they may only be offered decorative functions, such as lapel buttons and cuff links with non-functional brooches. Decorative buttons usually have irregular shapes that can intersperse garments.
These buttons are made of high-quality natural wood plastic, very fashionable and beautiful. Exquisite technology makes its color and texture full, texture strong, overall delicate, and charming.
These beautiful maple leaf decorative buttons are perfect for decorating your home, clothing, shirts, coats, jeans, jackets, fabric seams, or whatever area you want to decorate.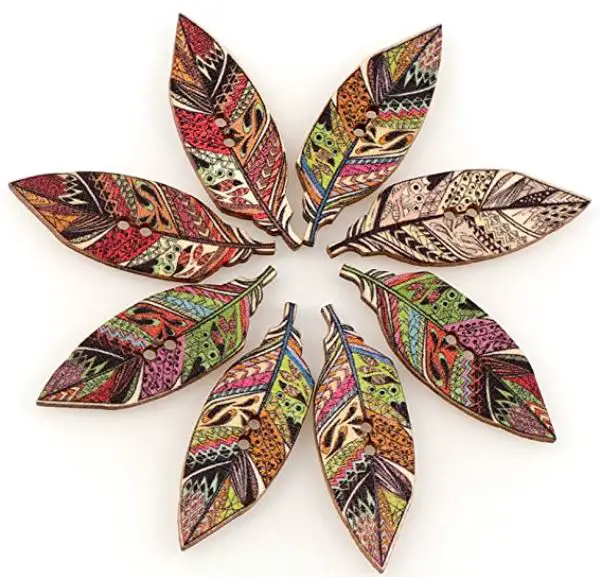 Features:
Quality natural wood plastic
Suitable for DIY
Lightweight
Snap Buttons
They are divided into four parts from the top down, including cap, socket, stud, and post. The surface of the cap and socket can be carved with decorative patterns. Snap buttons are an ideal hidden fastener.
Snap Fasteners sets are easy-to-use and effective fasteners for any sewing project. The two parts could be buckled together, made of good quality copper, rugged, sturdy, and durable, and will not quickly get erosion and rust.
This set of Snap buttons is suitable for clothing, coat, hats, jeans, down-jacket, shoes, jackets, overalls, windbreakers, backpacks, leathercraft, DIY craft, and so on.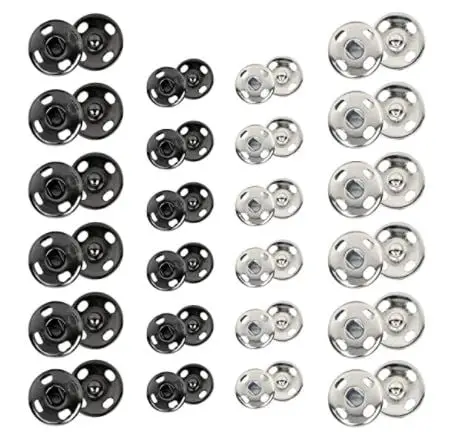 Features:
Black and silver color
Quality copper
Sturdy
Durable
Buttons by Material
Buttons come in a wide variety of materials and button names. There are metal buttons, pearl buttons, and fabric buttons.
Natural buttons can be made from natural materials like wood or coconut. Bone and horn were also popular natural options in the past.
Enamel buttons are made by applying an enamel or epoxy resin to cover the button's surface (epoxy tends to be a bit more durable).
Plastic buttons can be made from acrylic, resin, ABS plastic, nylon, or a combination of these materials. They all have slightly different characteristics. But generally, you can expect a plastic button to be light and robust.
Metal Buttons. These are the sturdy buttons used on jeans and leather garments. Jeans buttons and cuff links are metal buttons that are widely used.
Additional Tips When Buying Different Types of buttons
Understand your needs first, especially what type of garments you will use. Generally, for heavier garments, shank buttons are the better choice.
Consider that you cannot machine-sew a shank button, so you will need to consider the extra effort and time required.
Different Types of Buttons FAQs
What is a button?
Buttons are often regarded as just small fastening devices, and we often take them for granted. However, there's a whole world of buttons, each with its own unique features, qualities, and purposes.
What is an alternative to buttons?
Another alternative to buttons, hook, and eye fastenings are made of a loop and a catch. You'll often see versions of skirts, bras, dresses, and jeans.
What are the types of buttons?
Buttons come in various shapes and sizes, colors, and materials.
When choosing the best button for your project, size is the top priority, followed by style and composition. The five main types include flat, shank, stud, toggle, and decorative buttons. We'll take a peek at each below.
What are buttons without holes called?
Shank buttons (also known as shank back buttons) aren't flat. And they don't have holes on their surface.
Instead, shank buttons have a protrusion on the back (a "hidden" hole), through which thread is sewn to attach the button to the fabric. Shank buttons can be made from several different materials.
What is the difference between shank buttons and flat buttons?
Flat and shank buttons are two types of buttons commonly used for garments.
Flat buttons can further be divided into two-hole and four-hole flat button types.
However, the main character between the two remains the same, which there are flat with holes in the middle. The holes are used to sew the thread through to attach the button to the garment.
On the other hand, Shank buttons have a hollow protrusion on the back, which will also sew the thread through to attach the button.
Due to this shank structure, shank buttons can have many different shapes, which is often regarded as the main advantage.
Shank buttons have a hollow protrusion on the back through which thread is sewn to attach the button.
Button shanks may be a separate piece added to the back of a button or be carved or molded directly onto the back of the button, in which case collectors refer to the button as having a 'self-shank.'
What are decorative buttons?
Decorative buttons are far more than simple plastic circles to hold the fabric together. With various materials, designs, shapes, and sizes, novelty and designer buttons are popular embellishments for dozens of projects.