Are you in search of a sewing machine? We hear you; the time has come to upgrade your old one, or perhaps you are new to the sewing machine game and want to know more about them first. You are lucky because today, we'll be telling you about the different types of sewing machines.
Whether you want a sewing machine for your growing hobby or business, you must ensure quality. Sewing machines come in different types, so your ultimate decision should be based on your needs. However, not all sewing machines are equal, with some types dedicated to more specific tasks.
But just like with any investment, it is always a good idea to do a little research first. And with so many options available, making the right choice can be a little stressful. So we are here to help and point you in the right direction by showing you different sewing machines.
Brief History of the Sewing Machine
The first patent for the sewing machine was granted to English inventor Charles Frederick Weisenthal in 1755, but no working machine was ever made. The first working chain stitch machine was invented in Britain in 1804 by Thomas Stone and James Henderson.
American Walter Hunt invented the first lock stitch machine in 1832. English inventor John Fisher created the first modern sewing machine in 1844, but it wasn't patented. Thus, American Elias Howe's 1845 machine receives the credit. Issac Singer, also an American, built his first machine in 1851.
Types of Sewing Machines
Mechanical sewing machines are easy to use and maintain and have manual controls that stand the test of time. Popular stitches are built in to handle basic sewing, home projects, alterations, and more.
Whether you want to sew a dress, stitch up a pillow, or craft a trendy tote, the SINGER MX231 offers 23 unique stitches to complete almost all of your sewing projects.
With customizable stitch length and width, you can sew with accuracy. Make buttonholes in one easy step, and easily hem trousers and sleeves using the free arm.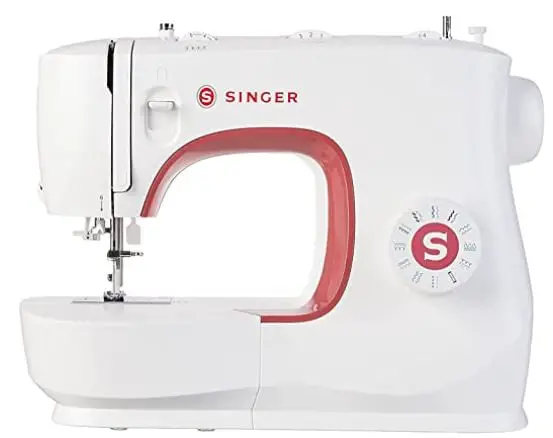 Features:
97 Stitch Applications
Adjustable Stitch Length
Quick and Easy Threading
The Brother Project Runway features 50 built-in stitches, including five auto-size buttonholes.
This sewing machine includes an automatic needle threader that perfectly pushes the thread through the needle and a convenient, jam-resistant drop-in top bobbin.
Comes with seven sewing feet, a 3-piece needle set, twin needle, instruction manual, and more.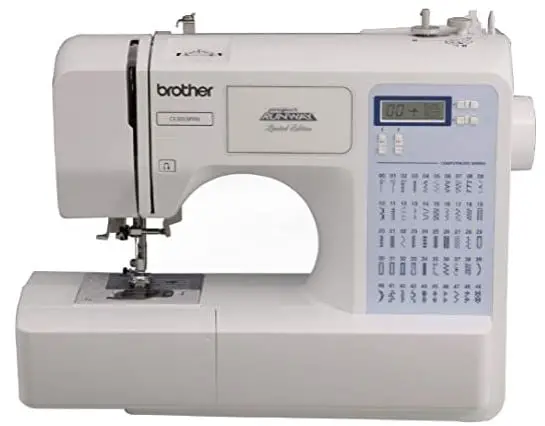 Features:
Treadle Powered
Lcd Display
Metal
The sewing Machine adopts engineering ABS material and has a longer service life. It provides an extension table which makes it convenient to work better.
This machine provides a bright environment and a thread cutter; these help you see more clearly and reduce the influence on your eyes. It is more convenient to use the sewing machine at night.
Electrical sewing machine with a foot pedal. Concentrate your sewing with both hands and control the speed with Foot Pedal. Suitable for cotton, synthetics, rayon, linen, cashmere, denim, wool, almost anything.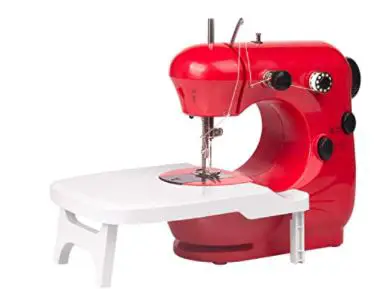 Features:
Built-in thread cutter
Foot Pedal
High-quality material
With 50% more power and enhanced speed, Singer Heavy Duty sewing machines can tackle thicker fabrics and long seams without breaking the bank. A true workhorse with an all-metal frame.
The Heavy Duty 4423 sewing machine is designed with your heavy-duty projects in mind, from denim to canvas. Thanks to the machine's powerful motor, you have extra-high sewing speed to save you time.
The bobbin loads from the top, so it is easy to insert. The transparent cover makes it easy to monitor the bobbin thread supply.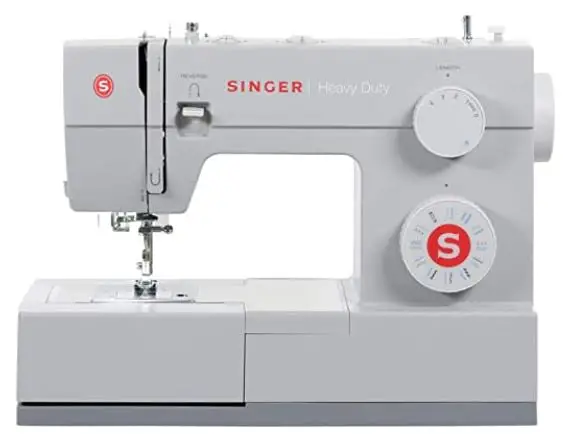 Features:
Metal
Corded Electric
High Speed
There is reverse sewing to help with great sewing. Twelve different stitch patterns, including straight stitches, zigzag stitches, etc., fit your different sewing needs.
Comes with three replaceable presser feet, sewing buttons, sewing zippers, and sewing invisible zippers. A complete set of spool accessories and a convenient tape measure, ready to use after receiving the sewing machine; enlarged expansion table, suitable for sewing large pieces of fabric.
The threading guide printed on the body can help you thread easily.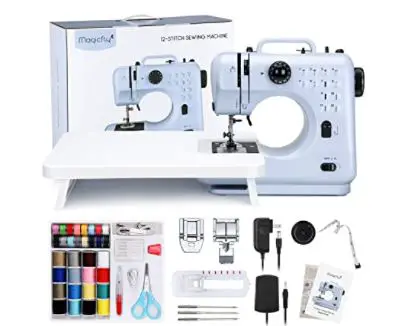 Features:
3 Needle Types
Easy to operate
Reverse Sewing
Types of Sewing Machines FAQs
Are our sewing machines loud?
Although many older machines are louder, most newer models are designed to be pretty quiet. Many newer machines can only be heard in the room used for sewing. If they get louder, they probably need some routine maintenance or placed on more flatwork surfaces.
How long do sewing machines last?
A modern computerized sewing machine can last as long as 25 years without any severe issues. Older and non-computerized machines can continue to work for decades.
How are sewing machines classified?
Sewing machines can be broken into domestic machines for home use and industrial devices for factories and clothing production. There are six primary sewing machines designed for the home and countless specialized machines in industrial machines.
Industrial sewing machines are usually used in mass garment production. An industrial sewing machine is power-driven and runs at a very high speed.
What are the types of sewing machines for domestic use?
Mechanical Treadle Sewing Machines
Mechanical machines are the most basic of all machines and could be treadle or hand-operated. They were designed to be used before electrical power was accessible.
Electronic Mechanical Sewing Machines
Electronic machines have many more options and the advantage of being electronically operated. Electronic, mechanical sewing machines will need a straight stitch, zigzag, and some decorative stitches.
Mini and Portable Machines
Electronic machines would include mini portable devices. The mini machine is not sturdy enough for vast quantities of sewing. Although it is portable and easy to carry, it is best suited to small projects and mending.
Computerized or Automated Machines.
Moving on up the scale of machines, computerized and fully automated devices have many more functions and features. The machine often has an LCD, automatic needle threading, and even embroidery stitches: different tension controls and stitch lengths.
Embroidery Machines
An embroidery machine is an investment if you plan to do many embroideries. The machine will have access to built-in designs and a memory facility to store layouts.
Quilting Machines
Quilting types of sewing machines are highly recommended if you plan to make large quilts. This machine has a more extended arm allowing more significant volumes of fabric to pass through the machine.
Overlocking or Serger Machines
The serger is a relatively new addition to the sewing machine collection. It is the perfect machine for sewing stretch knits and fleece for active sportswear. The overlocker or serger may come with three or four threads.
What are the types of industrial sewing machines?
Common types of industrial machines include:
Cover stitch machine. A specialized industrial machine able to do hemming, binding, topstitching, and add decorative effects.
Lock stitch machine and heavy-duty lock stitch machine. Creates a stitch similar to a backstitch. The stitch looks the same on both sides of the fabric.
Chain stitch machine. Creates a valuable chain stitch for stretch fabrics and binding and decorative effects.
Blind stitch machine. This machine makes an invisible hemstitch.
Buttons and buttonholes. There are types of sewing machines programmed to sew buttons using a lock stitch, and an industrial buttonhole machine is geared for various kinds of buttonholes..
Back tack machines. They specialize in sewing the tiny stitches you find on the top edge of pockets or on the loops for a belt and other areas that need reinforcing.
Leather machines. These have a walking foot to enable them to glide over tough and sticky leather.
Zig-Zag machine. This industrial sewing machine does zigzag and is used predominantly in bra and underwear production to attach elastic.